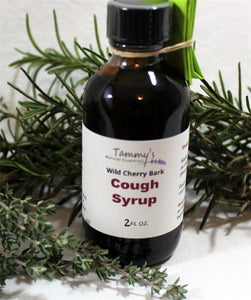 WILD CHERRY BARK COUGH SYRUP
Because of its powerful sedative action on the cough reflex, wild cherry bark finds its main use in the treatment of irritating coughs and thus has a role in the treatment of bronchitis and whooping cough. Wild Cherry Bark calms the respiratory nerves and spasmodic cough.
Avoid during pregnancy or if you are allergic to any of the ingredients.
Contains: Raw Honey, Wild Cherry Bark, Blackberry extract, Elecampane, Lobelia, Ginger
It contains 11% alcohol.
Safe for adults and children.
One could take wild cherry bark cough syrup by the spoonful or add it to a little water or juice. Take as needed.