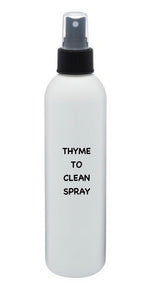 THYME TO CLEAN SPRAY
Spray as desired in the air, on glass, porcelain, metal, countertops, and plastic surfaces. Thyme to Clean was one of my favorite products to use when cleaning up the air after our sewer back up problem and for this reason, we are currently out of stock. I will be making more soon.
Our Thyme to clean spray offers so much, in one bottle. This cleaner is easy to use, just shake, spray, and wipe. When it comes to germs our Thyme Cleaner offers just the right amount of germ-fighting essential oils to clean bathrooms, kitchens, and normal everyday cleaning. Thyme to Clean offers a lovely clean and uplifting herbal aroma which helps you to test the product in more locations.
I love using this product to freshen the air (it smells like walking into my store) and it's an incredible cleaner for my kitchen windows. It cuts the grease residue and smells amazing!
Contains Thyme, Cedarwood, Citrus, Sage, and a few other oils in a base of distilled water, Alcohol, and castile soap. 
Avoid contact with the eyes. Keep out of reach of children.