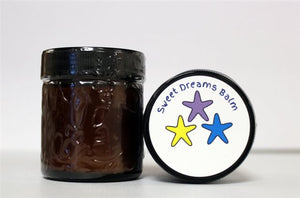 SWEET DREAMS BALM
Calming and Relaxing so you can get a good night's sleep.
It contains Coconut oil (fractionated) and beeswax, Pure Essential Oils: Lavender, Clary Sage, Mandarin and a hint of other essential oils.
Avoid when pregnant, endometriosis and cancer. Potentially phototoxic. Avoid contact with the eyes.
Apply to the wrist and back of the neck or you may use it as a soothing skin moisturizer after a warm bath or shower.