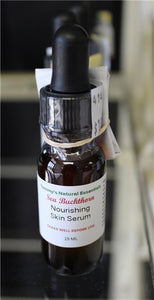 Sea Buckthorn Nourishing Serum
Our Sea Buckthorn Nourishing Serum is designed for all skin types. It's lightweight, so a little goes a long way! Sea Buckthorn is helpful for epidermal regeneration and inflammatory skin conditions while supporting the natural pH balance of the skin.
Directions for use: Apply 2-4 single drops to clean, dry skin 1-2 times daily.
It contains Sea buckthorn fruit & seed extract, Rosehip seed, Borage Seed, Vitamin E, Frankincense, Carrot, Lavandin and other essential oils for the skin.