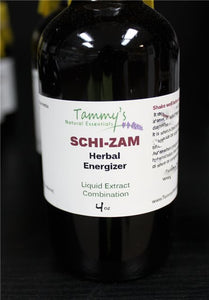 SCHI-ZAM Extract Combination
The essential components of Schi-Zam are the high potency herbal adaptogenic herbs used. This formula has a wide array of antioxidants and beneficial phytonutrients that help to supply your body with essential nutrients that help naturally replenish energy, while at the same time facilitating the removal of toxins that accumulate with physical and mental stressors. 
Contains: Schisandra berries, Rooibos, Nettle, Gojiberry (Wolfberry) Red Clover, Licorice Root and a few other herbs with Distilled water, Grain Alcohol and vegetable glycerin. 
Caution: Avoid when pregnant and while nursing, with hypertension, liver disorder, sever kidney disease, low blood potassium, heart disease or congestive heart failure.