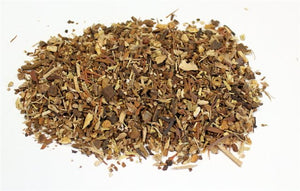 ROOT BEER TONIC TEA
A fun and tasty tonic for the liver. The traditional time for drinking Liver Tonics or Blood Purifiers, as they are called is in the spring and the fall of the year. One could enjoy this tea all year long, taking a break after daily use of three months. To be effective, it is best to drink three to four cups daily, along with healthy eating habits.
Contains, Sarsaparilla root, dandelion, lapacho bark (Inner), cinnamon, ginger, sassafras and citrus.
If you like your tea a little sweeter as I do, add honey and wow, what a yummy flavor this tea has!
Avoid when pregnant and while nursing, and taking blood thinning medications. As your doctor before use if you have high blood pressure, heart disease or congestive heart failure.