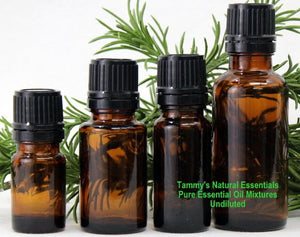 RESPIRATORY Mixture
Pure Essential Oil Mixtures 

These are pure essential oils mixed together but not diluted with a carrier. Each comes with its own set of directions for use. 
Rosemary, Peppermint & Eucalyptus Essential Oils 
Works nicely when added to a nasal inhaler or aromatherapy locket (Undiluted) for portable relief during respiratory issues, or use as a stimulant. What an eye-opener!
 Safety warnings: Non-toxic at low levels.  Avoid when pregnant, lactating and with epilepsy. Not for children. Possible neurotoxic, Skin irritant.