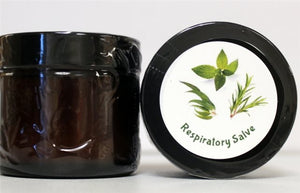 RESPIRATORY SALVE
Our Respiratory Balm: A natural alternative to the petroleum based products on the market today!
We strive to provide our customers with natural plant based products. 
Apply as often as needed to Thymus (chest), Back  and bottom of feet. Yes the feet!
Contains: Essential Oils: Rosemary, Eucalyptus & Peppermint. In a base of: Coconut Oil and Beeswax.
Avoid when pregnant, lactating, with epilepsy or high blood pressure. Not for small children, possible skin irritant. Not for internal use. Avoid contact with the eyes.
The information provided on this website has not been evaluated by the Food and Drug Administration. All material provided is for informational or educational purposes only, and is not intended as a substitute for the advice or care provided by your healthcare professional or physician. This information/product is not intended to diagnose, treat or cure any disease.