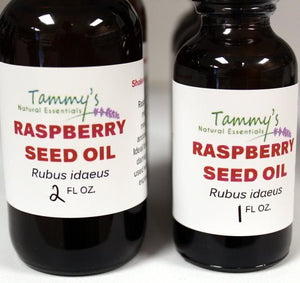 RASPBERRY SEED OIL
Raspberry seed oil is rich in EFAs (essential fatty acids), primarily linoleic and linolenic acids. It contains very high levels of tocopherols (Vitamin E), which act as antioxidants, and carotenoids (Vitamin A).    
Because of its composition, raspberry seed oil possesses superior anti-inflammatory qualities, and has reported sunscreen qualities, according to the Oomah study (2000), which makes it a nice addition to face, lip and sunscreen products. 
*According to the Oomah study (2000), raspberry seed oil has the ability to absorb UV light similar to a sunscreen with SPF 28-40. Some people misinterpret this as raspberry seed oil being an effective sunscreen, but in reality this claim has not been tested – the oils never went through strict SPF testing that determines the level of protection from sunlight. That being said, it is very likely that the oil will make a good addition to a natural sunscreen with proper UV filters due to its antioxidant and anti-inflammatory properties.
6 reasons to use raspberry seed oil:
Absorbs UVB and UVC and offers limited protection from UVA so "may act as a broad spectrum UV protectant" (Oomah et al., 2000) although further studies are needed to test this*.
Anti-inflammatory due to high content of alpha linolenic acid (the highest in any fruit seed oil) and phytosterols, therefore helpful for eczema and psoriasis.
Anti-aging benefits due to content of ellegic acid (an antioxidant). Studies shows that elegiac acid "reduced the destruction of collagen and inflammatory response, both major causes of wrinkles." It also protects against ultra violet damage.
Very high in Vitamin E – an antioxidant. Antioxidants in skin care are important to prevent oxidative damage, which can lead to premature skin aging and skin cancer.
Very high levels of phytosterols that can help reduce trans-epidermal water loss, thereby helping to keep skin moisturized.
Phytosterols also help to repair skin damaged by environmental factors including sun damage.
References:
Oomah, D. et al., 2000. Characteristics of raspberry (Rubus idaeus L.) seed oil. Sourced from: http://mail.lotioncrafter.com/reference/oomah.pdf
www.cosmeticsdesign.com/Formulation-Science/Fruit-oil-trend-down-to-berry-good-SPF-and-moisturising-properties
www.medicinenet.com/script/main/art.asp?articlekey=99544