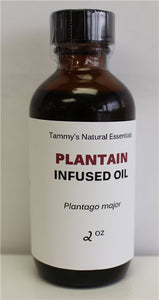 PLANTAIN INFUSED OIL
 Tammy's Natural Essentials uses fresh herbs when available for our herbal infused oils. We do the time tested approach by allowing the herb to infuse/extract for at least 8 weeks. Herbal infused oils are  great to add to massage oils, balms, butter or salves to enhance their therapeutic benefits or use as is for skin application.
Organic: PLANTAIN LEAF Plantago major infused into Organic Olive oil with Vitamin E added for preservation.