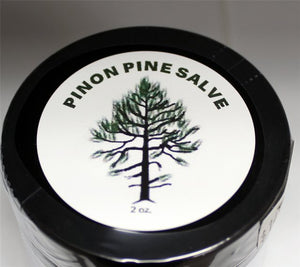 PINON PINE SALVE
Therapeutically, one can look to the historical use of pinon pine sap by Native Americans to understand the applications of this oil for respiratory and infectious purposes, as well as wound healing, tissue regeneration and ailments from muscular pain to joint pain. 
Contains hand picked SAP from  a pinon pine tree naturally grown in Oregon, Essential Oils, and Beeswax. 
2 ounce Amber glass jar
Avoid contact with the eyes, not for small children. 
The information provided on this website has not been evaluated by the Food and Drug Administration. All material provided is for informational or educational purposes only, and is not intended as a substitute for the advice or care provided by your healthcare professional or physician. This information/product is not intended to diagnose, treat or cure any disease.