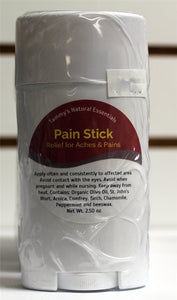 PAIN STICK
A wonderful combination of herbs to help support the body during painful situations. Apply as often as needed in an acute situation.
Avoid when pregnant and while nursing or if allergic to bee products. Avoid contact with the eyes. Keep out of reach of children and keep away from heat!
Contains Organic Olive Oil, Organic Arnica, Organic Chamomile, Birch. and Beeswax.