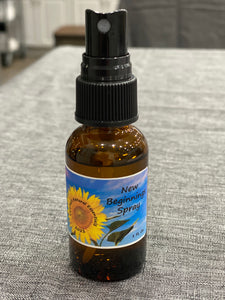 NEW BEGINNINGS SPRAY (2021)
Tammy's New Beginnings Spray was designed for 2021.  This incredible essential oil spray offers a burst of energy, love, and light from lemon verbena, with passion and desire coming from Clary Sage and a kiss of vanilla to remind you life can be sweet!
I hope it moves you as much as it does me!
Product sold in a glass bottle and designed to be a room spray although some can use it as a healing perfume.
Avoid topical application if sensitive to estrogen. Avoid with breast cancer and endometriosis, pregnant or nursing.