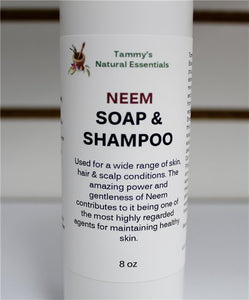 NEEM SOAP & SHAMPOO
Used for a wide range of skin, hair & scalp conditions. The amazing power and gentleness of Neem contribute to it being one of the most highly regarded agents for maintaining healthy skin.
Our soap & shampoo base is much more gentle on your skin and truthfully produced from renewable vegetation. Simplify your life and use this product as a Face, Body, Hair, Hand soap, and even wash delicate clothing! 
Contains: Neem Oil Azadirachta indica
Essential Oils: Chamomile, Lavender, Cypress, and Grapefruit.
Shampoo base: Purified Water, Decyl Polyglucose, Vegetable Glycerin, Xanthan Gum, and Citric Acid
Our products do not contain Sodium Laureth sulfate or parabens. They are user and Earth-friendly. Handmade by Tammy in small batches.
The 64 oz is for local delivery, if shipping there will be additional fee applied to cover the postage.