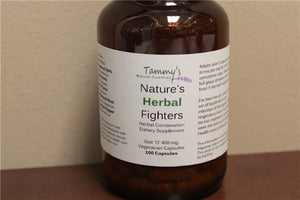 NATURES HERBAL FIGHTERS CAPSULES
A combination of herbs to help support the body during sickness. For best results, take at the onset of bacterial or viral infection of the upper or lower respiratory tract. If symptoms do not improve or worsen, seek the advice of qualified health care professionals.
Contains: Organic: Chaparral, Usnea, Garlic, Goldenseal, and Cayenne
There may be times when you will need to rotate Nature's Herbal Fighters and Cold Care Capsules. 
100 size 'O' vegetarian capsules 500 mg in a paper envelope.
Avoid when pregnant and while nursing. Avoid with kidney or liver disease. Nature's Herbal Fighters is not designed for everyday use. Seek the advice of a qualified health care