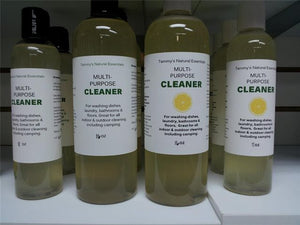 Multi-Purpose Cleaner (SOAP)
This Multi-Purpose Cleaner can be used for Washing dishes, doing  Laundry, cleaning Bathrooms & scrubbing Floors. 
Unscented so you can add the aroma of your choice.
Contains: Decyl Polyglucose, Distilled Water, Vegetable Glycerin,  Xanthan Gum, Citric Acid.
Our multi-purpose cleaner is a concentrated soaping agent. Dilute in water before use.