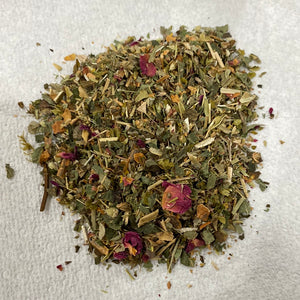 MOON TEA
Menstruation is a normal part of life for healthy women of reproductive age, but every woman experiences her period differently. Tammy's Moon Tea is designed to help reduce heavy menstrual flow and decreasing the pain of cramping while calming and soothing mood swings.  Drink 1-3 cups daily, 1 week before and/or during menstruation cycle.  Not designed for every day use.
Contains: Shepard's purse, Motherwort, Cramp bark, Melissa, Meadow Sweet, Rose petals, Yarrow and Skullcap.
Avoid when pregnant and while nursing.