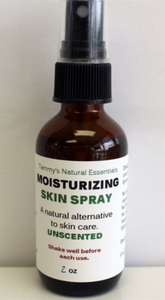 MOISTURIZING SKIN SPRAY
Suitable for all skin types and gentle enough for a baby.
A gentle and effective way to moisturize the skin without the heaviness of a lotion. 
Our moisturizing skin spray is Unscented, so you can easily add your own fragrance oil or essential oil to this base. Moisturizing Skin spray makes a great carrier oil!
100% Petroleum free, Chemical free, Vegan-Friendly, Gluten-Free and Alcohol-Free.