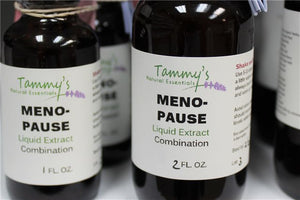 MENO-PAUSE Extract Combination
Supportive herbal combination for maintaining healthy female endocrine and reproductive system. It can be used for common symptoms of PMS and menopause. 
It contains Black Cohosh, Chaste Berry (Vitex) Raspberry leaf, Saw Palmetto, Blessed Thistle, Wild Yam, and a few other herbs, with Distilled water, grain alcohol and vegetable glycerin.
Caution: Avoid when pregnant and while nursing, May potentiate pharmaceutical MAO-inhibitors.