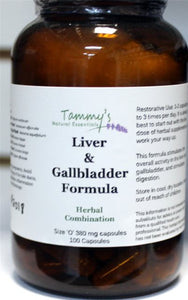 LIVER & GALLBLADDER HERBAL CAPSULES
This formula stimulates the overall activity in the liver and gallbladder. 
Contains Pure Herbs: Milk Thistle Seed, Dandelion Root, Oregon Grape Root, Burdock Root, Yellow Dock Root, Turmeric Root, Ginger Root. 
100 count size 'O" 500 mg Vegetarian capsules in a paper envelope.
Avoid during pregnancy, with blockage of the bile ducts, acute gallbladder inflammation and intestinal blockage.