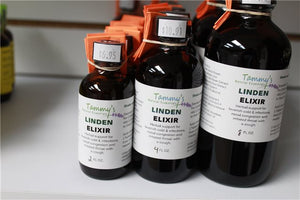 LINDEN ELIXIR
Herbal support for feverish colds & infections, nasal congestion, acute respiratory conditions and irritated throat with a cough. When used at the onset of these symptoms, Linden Elixir can be very helpful!
It contains Linden leaf & flower, Umckaloabo root, Chamomile flower, distilled water, alcohol, and vegetable glycerin.
A wonderful addition to the cold care cabinet for children as well.
Avoid when pregnant, taking high blood pressure medication, use caution if you are allergic to the ragweed family.