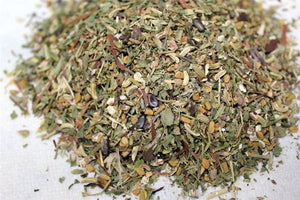 Just Right Tea (Weight Loss)
Our Just Right Tea  (Also known as Weight Loss Tea)  is wonderful balancing blend of herbs designed to help reduce inflammation, boost the immune system while supporting the liver. and encouraging weight & water reduction, while helping you to feel full.
Many folks have told us this tea blend helps with their muscle and joint pain, while others claim it helps them loose weight and some just like sipping it!
Contains: Organic: Chickweed, Fenugreek seed, Gotu Kola, Lapacho Bark, Dandelion root, Milk Thistle seed.
Avoid during pregnancy.