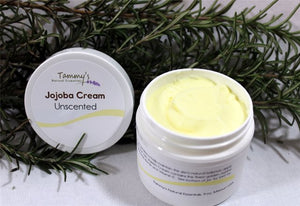 JOJOBA CREAM (Unscented)
Incredibly moisturizing to dry skin conditions. Use after a shower or bath or as needed to help restore and maintain the skin's natural balance. Our rich Jojoba cream contains the finest Golden Jojoba Oil, Distilled Water, Organic Aloe Gel, Beeswax, Borax and Vitamin E. 
Unscented for those who wish to scent it themselves.