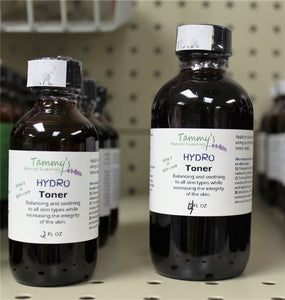 HYDRO TONER
Tammy's Natural Essentials Hydro Toner is balancing and soothing to all skin types while protecting the integrity of the skin. Cleanse face, pat dry and apply toner to face using a cotton ball or pad (sprayers available) to tone and tighten the pores. 
Contains: Helichrysum, Holy Basil, Lemon Verbena, Orange, Lime Hydrosols.
Caution: Avoid contact with the eyes.