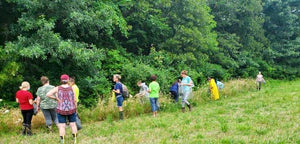 JUNE HERB WALK & CLASSES 2023
Plant medicine has been around since the beginning of time and there is a reason for that. There are times when pharmaceuticals are needed, and many times when they are not! My passion for medicinal herbs has turned into a mission to educate our community on what is growing in our backyards and how to use it. 

Tammy is pleased to offer our 9th annual June Herbal Remedies Course as a two-day learning event. These classes are design to be educational and fun! Tammy takes you on a guided plant walk to learn about medicinal herbs native to our area. I believe the best way to learn is through observing and interacting with living examples. Two days of plant identification, harvesting, and using the "whole Plant" to create products to take home with you. 
2023 Class days: both weekends offer the same class
June 10th & 11th 10:00 am to 2:00 pm 
June 24th & 25th 10:00 am to 2:00 pm  
Day 1
Plant walk
Drying and Storing 
Extracting & Infusing 
Cooking with herbs
Lunch & Group discussion
Day 2
Creating Salves, tinctures, teas, and edibles
Using the whole plant in a finished product
Lunch & Group discussion
What we will focus on during class:
Plant identification

How & when to harvest

Herbal remedies
And so much more!
Please dress appropriately for being outside: adequate clothing for changing weather, water-resistant walking shoes or boots, mosquito & tick repellent (Tammy's Bug B Gone spray is available) along with sunscreen when needed and a bottle of water for herb walk. A notebook & pen is recommended. Tammy will provide you with a folder and class notes, which you will need to bring to both classes.
Tickets can be purchased on the website or by calling (636) 668-6955. Tickets can be purchased now through May 31, 2023, or until the class sells out. Tickets are $165 per person, the class location is in, Winfield MO. Once you purchase your ticket an email with more information will be sent to you.
Shop:
We will have medicinal potted plants for sale along with all the other goodies we carry in our store.  
Cancellations and refunds:
In the event, this course should need to be rescheduled due to inclement weather, you will be notified of the new dates or refund your payment.

In the event the course will need to be canceled, you will be refunded your payment. 
If you need to cancel for any reason, we will refund your money minus 20% cancelation fee.
 PLEASE NOTE; WHEN PURCHASING THIS COURSE ONLINE THERE IS AN ADDITION $5 ADDED TO COVER THE WEBSITE & PAYPAL FEE. YOU CAN SAVE THE EXTRA CHARGE BY STOPPING BY THE STORE TO PURCHASE YOUR TICKET.
About the instructor:
Tammy Smith a Certified Herbalist, Aromatherapist & Holistic Health Consultant, and registered with AHG (American Herbalist Guild) and NAHA (National Association for Holistic Aromatherapy) she has been offering Natural Medicine to our community since 2013. Tammy offers classes for both beginners and advanced in Herbalism and Aromatherapy.  For health and well being, Tammy offers private Holistic consultations.