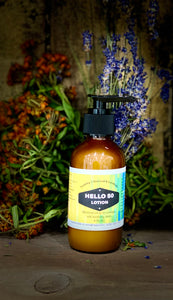 HELLO 50 LOTION
It's no secret, 50 does crazy things to the body and our skin is no exception! Hello 50 lotion is moisturizing to creepy old looking skin, while enhancing the appearance, it's loaded with antioxidants!
Now, if you have creepy old looking skin before 50, bless your heart! I understand where you are and for this reason, I believe you would enjoy how Hello 50 lotion nourishes wind burned skin, sun burned skin, even severally dehydrated skin.
Pure and Natural ingredients: Organic Aloe Vera, Raspberry seed, pomegranate, Cucumber, Frankincense (Sacred), Grapefruit and Beeswax.
Apply as desired to the skin. Avoid contact with the eyes. Avoid use when pregnant.
Handmade in small batches 4 oz Amber or Blue glass bottle with a pump.