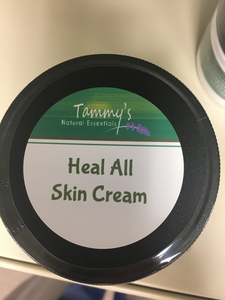 HEAL ALL CREAM
Heal All Skin Cream is excellent herbal support for troubled skin conditions. Use for wound healing, abrasions, acne, scars, eczema, psoriasis, diabetic sores, bedsores, shingles, ringworm, and unexplained rashes.
It contains Organic Tamanu Oil, Organic Rosehip Seed Oil, Organic Ale gel, Frankincense, and other essential oils, Vitamin E and Beeswax. 
Avoid contact with the eyes. Store in a cool location. Keep out of reach of children and heat. Use caution if pregnant.
Made in Foley Missouri- USA