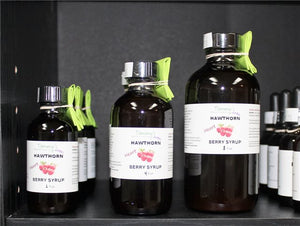 HAWTHORN (HEART) BERRY SYRUP
Hawthorn has a well established and well-deserved reputation as a mild heart tonic. For the heart, hawthorn berries act in a normalizing way by either stimulating or depressing its activity depending on the need. In other words, Hawthorn berries will move the heart to normal function in a gentle way. 
It contains Hawthorn Berry, Ginkgo leaf, Motherwort Herb, Gotu Kola, Ginger root, Distilled water, Vegetable glycerin, and Grain alcohol.
Caution: Avoid when pregnant and while nursing. A possible concern with taking blood-thinning medication but inconclusive. Patients undergoing surgery are advised to stop taking 7-10 days before surgery.