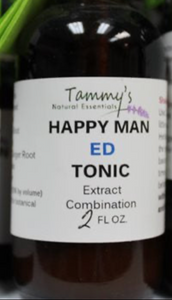 HAPPY MAN ED EXTRACT COMBINATION
Erectile dysfunction can cause stress, relationship strain, and low self-confidence.
The main symptom is a man's inability to get or keep an erection firm enough for sexual intercourse.
If you are suffering from erectile dysfunction, first be evaluated for any underlying physical and psychological conditions. If treatment of the underlying conditions doesn't help, give Herbs a try!
Fast facts on erectile dysfunction:
Erectile dysfunction (ED) is defined as persistent difficulty achieving and maintaining an erection sufficient to have sex.
Causes are usually medical but can also be psychological.
Organic causes are usually the result of an underlying medical condition affecting the blood vessels or nerves supplying the penis.
Numerous prescription drugs, recreational drugs, alcohol, and smoking, can all cause ED.
Happy Man ED has helped a large number of men young and old, follow the directions on the label and check with your doctor if you are taking medication for high blood pressure or heart medication before you take this product.
It contains Horny Goat Weed, Damiana, Muira puama, Rhodiola, Ginkgo, Ginger, Distilled water, Grain alcohol and glycerin.