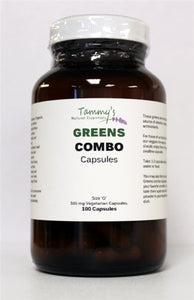 GREEN COMBO CAPSULES
These greens are an excellent source of vitamins, minerals and antioxidants. For those of us that do not eat our veggies the way we should can enjoy them in an easy to swallow capsules. 
You may also like to add our Greens combo capsules to your favorite smoothie, simply take the capsule apart and add the powder to your favorite drink or dish. 
Contains: Organic: Barley grass, spirulina, alfalfa leaf, Kelp, dandelion, dulse leaf, spinach, wheat grass, beet root, ginkgo leaf, and citrus
100 Size 'O' 500 mg Vegetarian Capsules in a paper envelope.
Safe to consume when used appropriately.  Take with food or water.