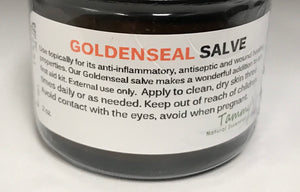 Goldenseal Salve
Helps to soothe and heal wounds. We have found this product to be extra beneficial for those that suffer from boils by drawing them out.
Goldenseal offers anti-inflammatory, anticatarrh, antimicrobial,  hemostatic, astringent properties.  Myrrh is one of the best antiseptics known and is commonly applied as a disinfectant to wounds. When combined with goldenseal, it can be made into a healing antiseptic salve useful for the treatment of hemorrhoids, bedsores and wounds.
Contains: Herbs: Goldenseal Root, Myrrh Gum, Calendula and Tea tree. In a base of Olive Oil (Organic), Beeswax and Vitamin E for preservation.
The information provided on this website has not been evaluated by the Food and Drug Administration. All material provided is for informational or educational purposes only, and is not intended as a substitute for the advice or care provided by your healthcare professional or physician. This information/product is not intended to diagnose, treat or cure any disease. 
2 ounce amber glass jar