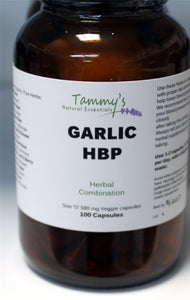 GARLIC HBP HERBAL CAPSULES
It is best to use these herbs in conjunction with proper diet and exercise to help lower blood pressure. We recommend you monitor your blood pressure levels closely after taking this product. 
Contains Pure Herbs: Garlic Clove, Turmeric Root, Dandelion Root, Linden Leaf & Flower, Black Cohosh Root, Hawthorn Leaf & Berry, Cayenne Pepper and Valerian Root
100 count size 'O" 500 mg Vegetarian capsule in a paper envelope. 
Avoid when pregnant or nursing. If you have blockage of the bile ducts or acute gallbladder inflammation.