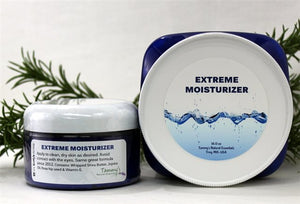 Extreme Moisturizer
One of our most popular products since 2012
Designed for dry, chapped or irritated skin
. Extreme moisturizer is wonderfully helpful for people with Eczema or Psoriasis.
You will find with this product, a little goes a long way!
You will soon discover many uses for our Extreme Moisturizer. I found it to be helpful when I had some allergy issues and my nose would not stop running. After many times of blowing my nose, it became raw! I applied Extreme Moisturizer to my outside of my nostrils (Which adds a protective barrier to my skin, it's water proof!) .... this was so nice and my skin healed beautifully without being irritated. I hope you find this information helpful! 
This product is gentle enough to use on a babies dry or chapped skin.
Simply Natural Ingredients: Shea Butter, Jojoba Oil, Rose Hip Seed Oil, Vitamin E & lightly scented with essential oils.
Two sizes available 4 oz or 16 oz