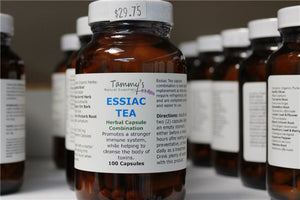 ESSIAC TEA CAPSULES
Our Essiac Capsules are the same formula as the "Original Tea" but, in eazy to use capsules form. The Essiac formula has been known for centuries to help promote a stronger immune system, while helping to cleanse the body of toxins.
Contains: Pure Organic Herbs: Burdock Root, Sheep Sorrel Herb, Slipper Elm (inner) Bark, Turkey Rhubarb Root in a Vegetarian Capsule. 
ABSOLUTELY NO BINDERS OR FILLERS!
100 size 'O' vegetarian capsules, each capsules contains 500 mg of the above ingredients. Sold in a paper envelope.
Avoid when pregnant.