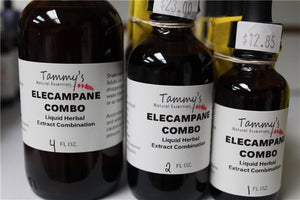 ELECAMPANE EXTRACT COMBINATION
Elecampane has actions, which are expectorant, anti-tussive, sedative, anti-fungal, relaxing, warming, and anti-microbial. Elecampane can soothe bronchial tube linings and act as an expectorant for lung cleansing.  For this reason, elecampane may be beneficial in supporting any respiratory condition which produces excess mucus discharge.
Contains: Organic Herbs: Elecampane, Fennel, Nettle, Lobelia, Distilled water, Alcohol, and vegetable glycerin
Avoid when pregnant and while nursing. Use caution with high blood pressure. Not for long term use.