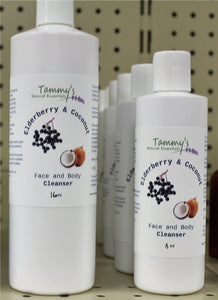 ELDERBERRY & COCONUT CLEANSER
Tammy's Natural Essentials is please to provide a natural alternative skin care product that is much more gentler on your skin and truthrully produced from renewable vegetation. 
Simplify your life by using this cleanser as a face, hair, body or hand soap. 
Contains: Distilled water, Decyl Polyglucose, Vegetable glycerin (from coconut oil), Organic Coconut oil, Organic Elderberries, Organic Aloe Gel, Xanthan Gum, Citric Acid. 
Elderberry & Coconut Cleanser does not contain Sodium Laureth Sulfate