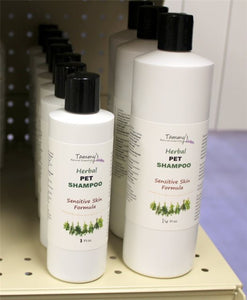 Dog Shampoo
Simply Natural Pet Shampoo
Pamper your pet with our pet products; designed to be soothing and gentle on their skin and hair. 
Contains: Herbs: Calendula Flower, Comfrey Leaf, Nettle Leaf, Chamomile Flower. Essential Oils: Geranium, Lavender, Lemongrass. In a base of the most simplest ingredients: Purified Water, Decyl Polyglucose, Vegetable Glycerin, Xanthan Gum, Citric Acid.
For flee and tick control, try our Neem Soap & Shampoo base.