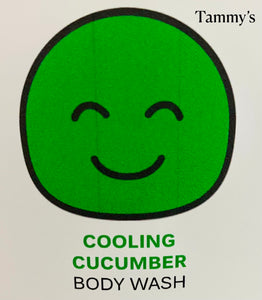 COOLING CUCUMBER BODY WASH
Tammy's Cooling Cucumber Body Wash is a great addition to the Hello 50 collection
If you live in Missouri or another hot, humid state or maybe you are just a hot natured person, this body wash is a perfect when it comes to cooling you off and cleansing the skin, it's great as a shampoo as well.... JUST DON'T GET IT IN YOUR EYES!
Be sure to check out Tammy's Creepy Skin Lotion (coming soon) in the Hello 50 collection as your after shower moisturizer.
Made with Pure and Natural ingredients, Purified water, Organic Aloe gel, Decyl polyglucose (from coconut & corn), Organic Cucumber extract,  Organic Peppermint extract, Vegetable glycerin (from coconut & corn) Xathan gum, citric acid and essential oils.