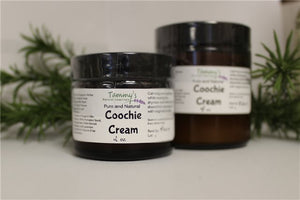 COOCHIE CREAM
Pure and Natural without all the harsh chemicals. Our Coochie Cream is calming and soothing while easing and relieving the discomfort associated with vaginal dryness.
Contains balancing Organic Herbs: Marshmallow root, Slippery Elm Bark, Red Clover Flower, Raspberry Leaf, Wild Yam. In a base of Organic Olive oil, Coconut oil, Pumpkin seed oil, Pomegranate oil, Palm Oil and beeswax. 
The information provided on this website has not been evaluated by the Food and Drug Administration. All material provided is for informational or educational purposes only, and is not intended as a substitute for the advice or care provided by your healthcare professional or physician. This information/product is not intended to diagnose, treat or cure any disease.