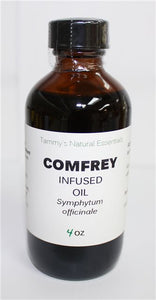 COMFREY INFUSED OIL
Tammy's Natural Essentials uses fresh herbs when available for our herbal infused oils. We do the time tested approach by allowing the herb to infuse/extract for at least 8 weeks. Herbal infused oils are  great to add to massage oils, balms, butter or salves to enhance their therapeutic benefits or use as is for skin application.
Comfrey  helps to speed the healing process of cuts, ulcerations, bruises, broken bones, pulled muscles and ligaments, and sprains. Avoid during pregnancy. Do not use this herb externally on new puncture wounds or deep cuts, due to the likelihood that the outer skin layers will be stimulated to close up and heal prior to draining and regeneration of deeper tissues.
Instead, first use Epsom salt soaks containing calendula. Once the swelling and pain have subsided and the wound is clean and healing normally, comfrey may be safely and effectively applied to speed the process.
Organic Comfrey Root & Leaf Symphytum officinale 
in Organic Olive Oil with Vitamin E Oil added for preservation.