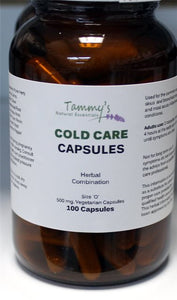 COLD CARE HERBAL CAPSULES
Used for the common cold, flu, sinus and bronchial congestion and most acute inflammatory conditions.
Contains Pure Herbs: Camu-Camu, Garlic Clove, Goldenseal root, Echinacea Root, Myrrh Gum, Turmeric Root, Cayenne Pepper.
 100 count size 'O" 500 mg Vegetarian capsules in a paper envelope.
Avoid during pregnancy or while nursing. Consult a health care practitioner if taking blood pressure medication.