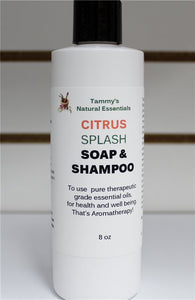 CITRUS SPLASH SHAMPOO
Bring in the Sunshine with this uplifting essential oil blend.
Our soap & shampoo base  is much more gentle on your skin and truthfully produced from renewable vegetation. Simplify your life and use this product as a Face, Body, Hair, Hand soap and even wash delicate clothing! 
Contains: Essential Oils: Lime, Mandarin (Tangerine), Lemon and Grapefruit
In a base of: Purified Water, Decyl Polyglucose, Vegetable Glycerin, Xanthan Gum, Citric Acid
Conditioner base: Water, Vegetable glycerin, Olive oil, Grapeseed oil, Ceteary alcohol, lactic acid, hydrolyzed rice protein, Citric acid, Lactic acid, Ascorbic acid, potassium sorbate and essential oils.
Our products do not contains: Sodium laureth sulfate or parabens. They are user and Earth friendly.