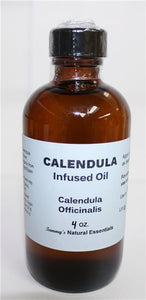 Calendula Infused Oil
Tammy's Natural Essentials uses fresh herbs when available for our herbal infused oils. We do the time tested approach by allowing the herb to infuse/extract for at least 8 weeks. Herbal infused oils are  great to add to massage oils, balms, butter or salves to enhance their therapeutic benefits or use as is for skin application. 
Calendula is most appropriately used externally for its antiseptic, anti-inflammatory, and healing wash or compress for insect stings, ulcerations, varicose ulcers, wounds, and old burns. abrasions, sunburn, chapped skin, diaper rash. Calendula is known for its healing properties.
Organic Calendula Flowers Calendula officinalis in Organic Olive Oil with Vitamin E Oil added for preservation.