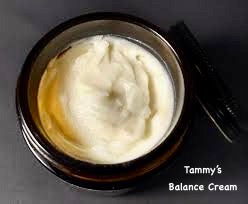 BALANCE CREAM (Tammy's favorite)
Hormonal imbalances go beyond menopause and hot flashes. Symptoms include weight gain or loss, insomnia, fatigue, depression, mood swings, fertility problems and so much more! Tammy's Balance Cream is designed for topical application to help with the above symptoms.  Apply a small amount (dime size) to the belly area (rub clockwise), two times daily.
Avoid contact with the eyes. Avoid if pregnant and while nursing and with endometriosis or breast cancer.
Contains: Water, Aloe gel, Evening primrose, Organic Olive Oil, Black cohosh, wild yam, Geranium, Clary sage,  Beeswax, and Vitamin E 
Handmade in small batches and sold in an amber glass jar. When there is a fresh batch made, larger sizes will be available. Please contact us if you are interested in a larger jar.