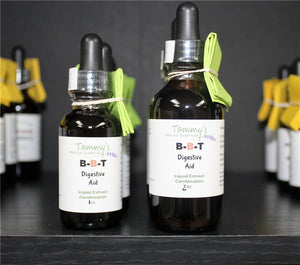 B-B-T Extract Combination
Our BBT (Belly Bitter Tonic) helps to stimulate digestion, use before or after meals. When adding bitters to your daily routine before meals it tells the belly to "Wake Up" food is coming. This helps your stomach to accept and process the foods you eat which aids in proper digestion.
It contains Dandelion, Burdock, Fennel, Yellow Dock, Ginger, Gentain, Nettle, distilled water, grain alcohol and vegetable glycerin.
Caution: Avoid when pregnant, if you have kidney stones,  or taking blood-thinning medication.