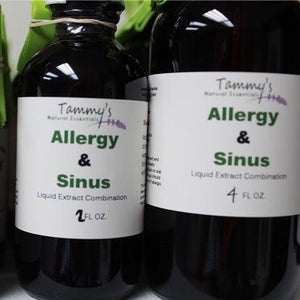 ALLERGY & SINUS EXTRACT COMBINATION
Herbal support for the itchy watery eyes, runny nose, and drainage even a headache. Herbs work best when used on a regular basis. I find this combination to be very helpful for my allergy issues! 
It contains Organic Herbs: Nettle, Thyme, Astragalus, Elder, Bee Pollen, Plantain, Lavender, distilled water, alcohol and vegetable glycerin.
Avoid when pregnant and while nursing, use caution if allergic to bees, Diabetic persons using insulin or oral drugs should use caution.
Follow the directions on the label.