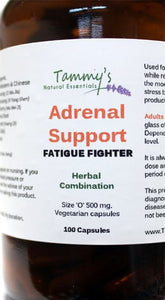 ADRENAL SUPPORT CAPSULES
Used for nourishing the Adrenals while relaxing the mind and uplifting the mood. 
Contains Pure Herbs: Siberian Ginseng, American Ginseng, Schizandra Berry, Ashwagandha Root, Astragalus Root, Holy Basil (Tulsi), Rhodiola Root, Oat Tops, Ginger Root.
100 count Size 'O' 500 mg. Vegetarian capsules in a paper envelope.
Avoid when pregnant and while nursing. Talk to your doctor if you have high blood pressure or diabetes before taking this product.