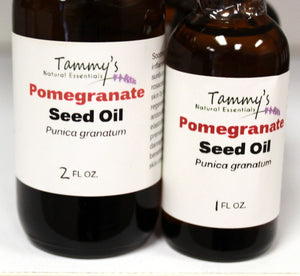 POMEGRANATE OIL
Punica granatum
Seed, Cold Pressed, Unrefined, Israel / China
This highly prized oil, which is naturally high in flavonoids and punicic acid, is remarkable for the skin. Deeply nourishing to the outer epidermal layer, pomegranate seed oil provides powerful anti-oxidant benefits for numerous skin ailments, and fights free radicals that damage and age the skin.
Rich in antioxidants, which deliver improvements in skin health and appearance by eliminating free radicals that can cause cellular degradation and premature aging.
As a "dry" oil, it absorbs readily into skin without leaving any greasy residue. 
Pomegranate Seed Oil is high in Punicic Acid. Punicic Acid helps to reduce inflamed skin while regenerating new skin and improving skin tone and elasticity. It has been shown to be anti-microbial and effective at improving epidermal differentiation by promoting regeneration of the dermis and the epidermis of your skin. 
Very beneficial for eczema, psoriasis, rosacea, burns and seriously inflamed skin, mature skin and sun damage.