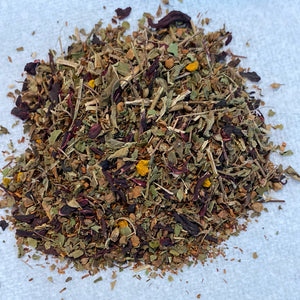 HARITAKI TEA
A wonderfully balanced Ayurvedic tea blend to help slim down and reduce sugar cravings, aid in weight loss, reduce pain and inflammation in the body, promotes digestion and a feeling of internal balance.  
Contains Organic: Tulsi, (Holy Basil), Hibiscus, Rooibos, Cinnamon, Gymnema slyvestre, Haritaki and Tumeric.  
Caffeine Free
Enjoy 1-3 cups of tea daily. Use 1 to 2 teaspoons per cup of hot water.
Avoid when pregnant or nursing.  If you are a diabetic or hypoglycemic, you will need to monitor your blood sugar levels while drinking this tea.