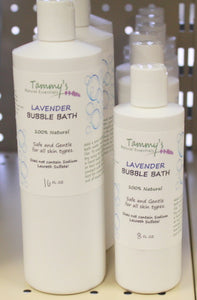 LAVENDER BUBBLE BATH
Safe and Gentle for all skin types. This product does not contain Sodium Laureth Sulfate!
Add a small amount to bath water, more if you like. To simplify your life try using this product as a hand wash, body wash or a hair wash. Avoid contact with the eyes. Keep out of reach of children.
Contains: Water, Organic Olive Oil, Organic Coconut Oil, Organic Cocoa Butter, Potassium hydroxide, Vegetable glycerin, Xanthan gum, Citric acid and Essential oils.